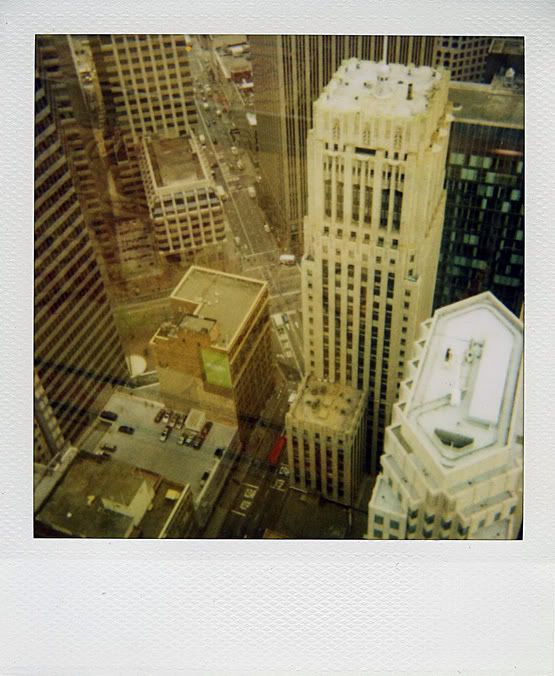 I'm into the idea of pointless points.
In the world (at least in America), there's a thick drum of paranoia over everything. Even I feel it. Last nite I was driven to the roof by fireworks &, while studying the reflections of individual blasts in the glass facade of an office building, I envisioned enemy bombs & gunfire. The sounds of a thousand city cars seemed panicked. Meanwhile, ribbons of celebration white & party red jumped up & down in plain view on the glass. Even so. This isn't the first or second, third or fourth time either. Once I was in an outdoor pool in SoMa while Bonds hit some fabled home run, & then civilization seemed to be ending all at once.
Maybe this happens because of my years working in the newspaper business… watching bad news stream over the wires every nite until a 1 am deadline. Strangely, I have no conception of the enemy. I do not consider anyone or any country to be such a weird thing. My reactions are almost involuntary, like an eye twitch, to an atmosphere dumbstruck w/fear. In the end, I don't believe in it. Gut reactions are so little about choice, though.
Anyway. My own unfounded paranoias expanded tenfold after moving to San Francisco last summer. This city is a collective hallucination. At any given time, there are a half-dozen people on bad trips in every direction, down each alleyway. The fog reinforces the illusion of place. I still don't know what San Francisco means.
I pretend that all the secrets are hidden, tucked into plush rooms & hallways in the heady peaks of the financial district. I work there, in a valley. Sometimes during lunch or on the way into work in the morning, I'll walk straight into the tallest building I can find & bullshit my way to the top. It's good… gets the heart pumping. When terrorism became our communism, buildings were remade as castles. You can count levels of security like rings in a tree. The highest reaches produce the most concern. I don't know. Something about constructing a civic monolith & then keeping me out just assures I'll find a way in.
Skyscrapers will be the American pyramid. I'm deep on them. Often I find myself in upper floors… leaning on a window, looking at the bay, the Golden Gate, the Pacific Ocean. The forbidden view. Just for me, & it feels so calming. Usually I go just for those quiet moments at the window alone, w/out a camera.
But sometimes I get inside & rob the tomb.